(Failed) data collection
Tl;dr = You can download the data here.
In most of my work I rely on publicly available datasets. On this page, I am sharing some data I collected for an idea that ended up being a non-runner. On 16th November 2020, Kieran Mitton invited Kristin Bakke and I to present our research on the legacies of wartime institutions at the Conflict, Security & Development Research Group in King's College London (KCL). We had a bit longer than you usually have when presenting work–more than the 10-12 minutes one gets at an academic conference–and so I took the opportunity to show this data and discuss my thinking behind it. This data collecting effort is absolutely part of the 80% of ideas, research, and work that never makes it into a journal article. Although it will probably never be read by anyone, it was really important when I was learning about Northern Irish society. You can watch our talk here:
Kristin and I wanted to study the legacies of informal justice systems in Northern Ireland. We faced a problem: How can we measure places of paramilitary control today (or in the past)? We were eventually extremely lucky and got geo-located security data of so-called "punishment attacks", officially referred to as "paramilitary-style assaults", from the Police Service Northern Ireland (PSNI). I say lucky but it was the product of many, many emails and a meeting in person with the PSNI. For a year, we were never certain that we would get this data and so I collected alternative data that I thought could be used to measure social control.
Our first idea was to use news reports, but we quickly realised that they would over represent Republican attacks or under-report Loyalist attacks. Because Republican attacks more often involve the use of firearms, they are less discrete and in urban areas they are more likely to become "known" to outsiders compared to beatings. We decided not to use this, but it is probably the best alternative to the data we have. This is reflecting by the fact that people are collecting this data. For example, the Armed Conflict Location & Event Data Project (ACLED) is expanding to include Northern Ireland from 2020 onwards.
We also thought of using hospital reports, but again, shootings are more obviously an attack than a beating and so beatings might be under-reported. There are also few hospitals and so we would not know where the attack took place. However, the benefit would be that there would be temporal variation, in the sense that increased paramilitary violence would be reflected in the data. This is what McGarry et al (2017) do in their piece Punishment Attacks in Post-Ceasefire Northern Ireland: An Emergency Department Perspective (warning, there are images in this article that some might find distressing).
Instead, we decided that we would get a coarse measure of paramilitary violence from news reports and bolster it up by combining it with other measures of that might make an area more susceptible to control by paramilitary groups. Other measures might include the percentage of one denomination (from 2011 census data), the deprivation of an area (from deprivation measures), etc. We also thought of combining this with data on community organisations. And so I decided to collect data on the locations of GAA clubs and Orange halls.
The GAA
GAA clubs are the clubhouse and sporting fields associated with the Gaelic Athletics Association (GAA). The GAA is a sporting organisation for Irish sports, such as hurling, football, or handball. According to the Northern Ireland LIFE & TIMES Survey, most GAA members in Northern Ireland are Catholic. The GAA has some links to the conflict. Rule 21, for example, stipulated that members of the security forces–the army and the police–could not be members of the GAA. This rule existed until 2001. More generally, the GAA is a whole island association, so it is symbol for those who want a United Ireland in the Republican community. Finally, many clubs are named after prominent Republicans, some of which are divisive in Northern Ireland. For example, Casement Park, the GAA stadium on the Andersonstown Road in Belfast, is named after the Irish Republican hero–or traitor in British history book– Sir Roger Casement.
The Orange Order
Orange halls are the clubhouses of the Orange Order. The Orange Order is a brotherhood loosely based on the organisational structure of the Freemasons. It is a protestant fraternal order and plays an important role in marching and parades in Northern Ireland. Most (I think it might be safe to say all?) members are Protestant.
Data collection
Information on GAA clubs in the province of Ulster is publicly available. I coded the locations of 261 GAA clubs in the six counties that make up Northern Ireland.

The orange order is secretive and fragmented/decentralised structure where members can set up a hall pretty easily. I first contacted the Grand Orange Lodge of Ireland and they told me that they did not have a list of all the halls and the addresses, but that they thought there were over 600 halls. I had a goal.

I did a freedom of information request at the Northern Ireland Department of Justice because I thought they might have a list of halls for security reasons. They sent me a list of halls which were the subject of compensation awards as a result of receiving criminal damage, without but they did not indicate the time span. This amounted to 50 halls, most of which were in predominantly Catholic areas.

Parading is huge in Northern Ireland. As many parades start or end at an Orange hall, I contacted the Parades Commission in Northern Ireland and got the routes of 3119 parades in 2016. Not all parades were conducted by the Orange Order. This allowed me to identify an additional 138 halls.

Finally, I did a Google Maps crawler called Botsol and identified a further 119 halls. This worked quite well, but in hindsight this must be possible to do using OpenStreetMap data in R. I will update this and compare soon.
In the end, I got 263 halls (just over a third of those that probably exist). And this what it looks like: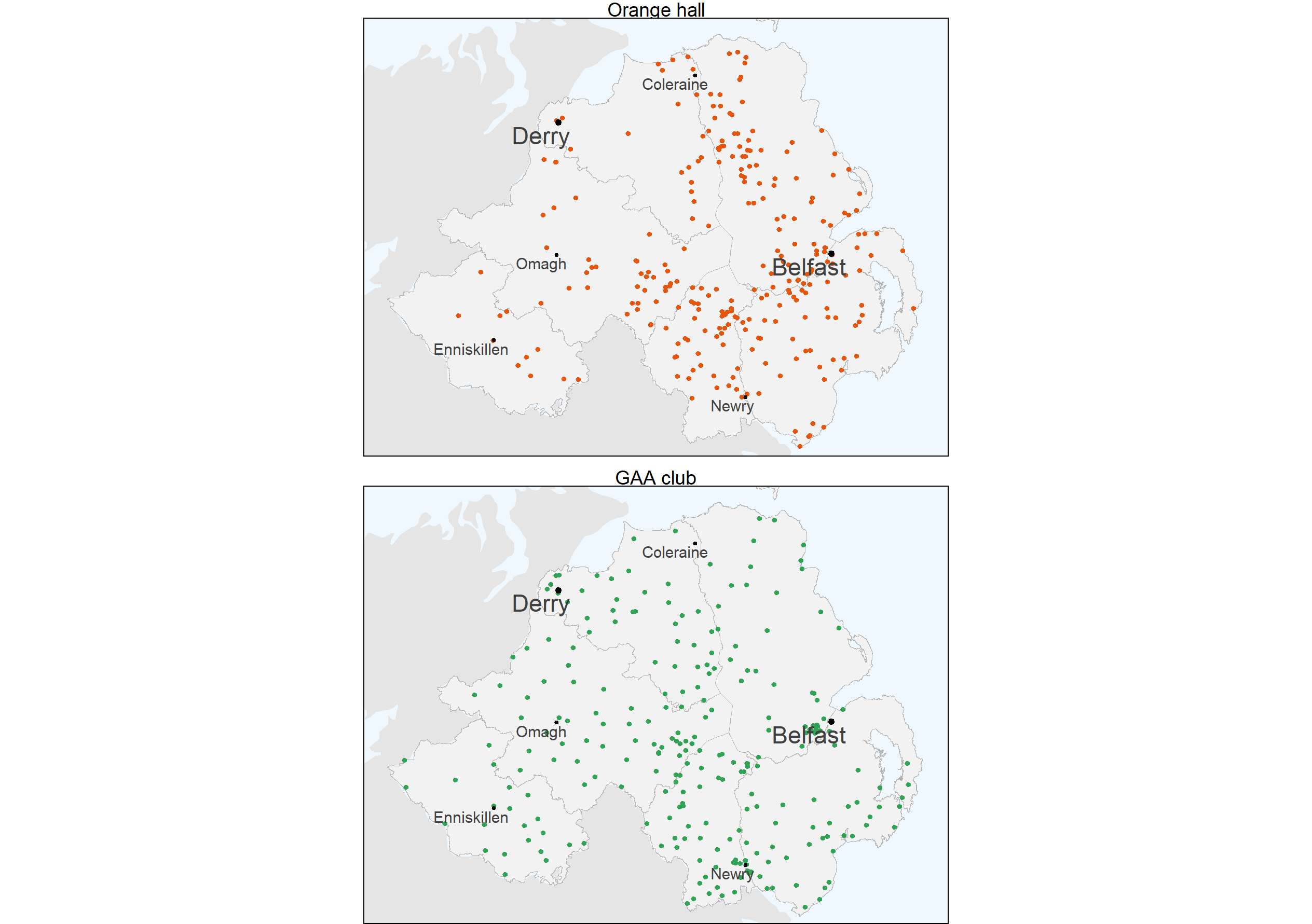 Download the data as a CSV file here.
The date also include the locations of Sinn Fein offices and Democratic Unionist Party (DUP) offices, which was another idea…